The
14th CREST open workshop
proved to be so popular that the free registrations were closed some weeks before hand.
Stephanie Forrest
gave the keynote on evolving fixes to software for which she won the
Humie.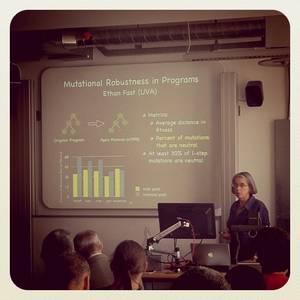 Two other international speakers were
Federica Sarro,
who talked on estimating time to produce software using GP and
Wasif Afzal,
who reviewed
GP for prediction
(Slides, Video). David White
talked about new work on optimising server farms, JVM in cloud computing systems
(Slides, Video)
.
I talked about evolving a CUDA kernel for gzip running on a GeForce 295 GTX GPU
(paper)